Was this article helpful?
Let us know if this article was helpful. It would help us improve our content for you and other customers in the future.
Disable Routing Rule on Exchange Online
As a WiseStamp user who uses the server-side solution, you may encounter a critical issue where your emails are not going through. In such rare events, you may need to disable the routing rule on Exchange Online until further investigation with WiseStamp support team.
Disabling the routing rule ensures that your emails bypass WiseStamp servers, allowing them to be delivered without any interference. In this article, we guide you through the steps to disable the rule.
!important!This should never happen under normal circumstances, but if it does, disabling the rule and contacting support is the best course of action to get your emails back up and running.!/important!
Sign in to your Exchange Online account and open the Exchange Admin Center.
From the Exchange Admin Center dashboard, click Mail Flow on the left-hand menu.
Under Mail Flow, click Rules to view your organization's current mail flow rules.
Locate the rule labeled Identify messages to send to WS SMTP and click it to view its details.
To disable the rule, click the toggle switch next to the rule's name to disable the rule.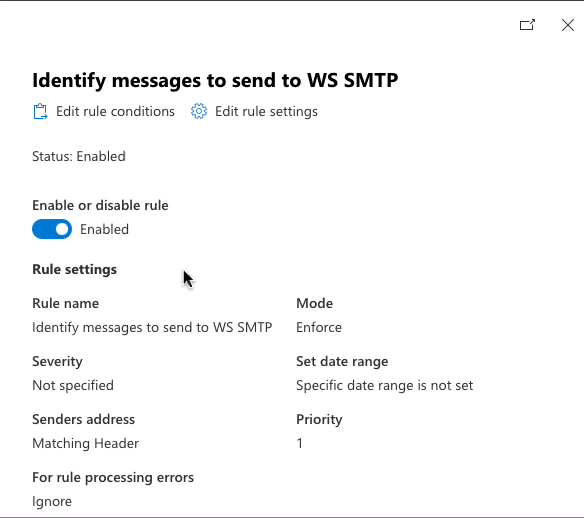 Once you disabled the routing rule, your emails are no longer routed through WiseStamp servers, and your signature is not deployed into your emails. If you need further assistance with troubleshooting your signature, please contact WiseStamp support team or your customer success manager.
Please note that as long as the rule is disabled, all emails bypass WiseStamp server, even those that may have been previously routed through it. You may need to re-enable the rule at a later time to resume signature deployment.